Crossover XVR reviews from media and players. Just a few of the quotes found on the web
"The Tippmann Crossover XVR is an outstanding paintball marker. Fast, accurate, reliable, efficient, consistent and easy to service"
"They took the time and effort to listen to players, and the improvements in the XVR reflect it."
"This marker is amazing, made in the USA, for $430 it hands down beats it's competition."
"The Crossover XVR now has all the features and improvements you have been asking for."
"It was smooth, very smooth with little to no kick even at high rates of full auto fire, no drop off in shots either and ridiculously quiet compared to the markers firing around me."
Behind The Bunker
TSSOC reviews the Tippmann Crossover XVR
The Ford Report
When the original Tippmann Crossover was rolled out last year, I was a bit skeptical to be honest. Don't get me wrong, Tippmann makes a quality paintball gun, and always has. However, their domination was in the woods, rather than out on the concept fields where tournament players lived. While I liked the Crossover, I didn't see it taking on DYE, Planet, Machine, et al in a serious way. The trigger did have issues, which Tippmann addressed with a free upgrade for owners, and stealth was certainly not a part of the package, with the characteristic Tippmann Bark. But having said all that, it was light, fast, and newer players or players looking to 'cross over' into a more tournament style gun loved it.
The "XVR" version of the Crossover is Tippmann's answer to input from tournament players they talked to over the past year. The result is an improved version of the rock solid Crossover that bears some attention from beginning tournament players or just players looking to up their game. The XVR comes in a soft padded case, rather than just the cardboard box the original Crossover shipped in. Not that I have a problem with cardboard, but having a nice case is a great way to ensure your gun stays in good shape.
Also new on the block is a 15" two piece barrel. The gun is still Tippmann threaded, but to allow players to use the plethora of autococker threaded barrels available Tippmann includes an adapter to use autococker barrels on the XVR. The new gun also features tool-less disassembly to take out the valve, which in my experience with the Phenom isn't something you'll have to do very often. The ASA underwent some changes too, making it easier to live with. As always, the basic tool kit, manuals and pull through squeegee round out what you get with the XVR. Battery replacement is also now tool-less, so no more messing around with tiny screws in your grip panels to swap a battery! Field testing was broken up into two segments, firing and actual field play. Once I received the gun, I took it to Blackwater Paintball in Pavo, GA to put some paint through it. Powering the pneumatics was my trusty Custom Products air system, with LP piston installed. This air system is what I use on my primary gun, and it outputs around 550 psi.
Paint stuffing duties were handled by my ancient V1 Rotor, which despite years of abuse continues to work just fine. For this portion of the test I used the stock 15" barrel, which was bored to .692". The paint I used was a "skittles" mixture of low end Valken, Empire, and DXS paint of varying grades and condition. While stored properly, all of this paint was at least 6 months old, with some of the oldest paint being nearly a year old. As expected, there were some barrel breaks and accuracy was abysmal, but that was expected. The aim of this section of the test was to see how well the gun handled poor paint and the problems it brings. The gun shot through the barrel breaks without breaking stride, and rate of fire was decent considering the multiple jams the paint caused in my hopper. Several players on site who tried the gun loved the light weight, but commented about the loudness of the gun. The next phase of the test was carried out at Low Country Paintball in Ludowici, GA during the "Survival Games" scenario game. The field paint for this event was Valken Graffiti, which normally shoots very well and is consistent over the chronograph, although it runs a bit on the small side, at around .682".
For this portion of the test I borrowed a Bob Long barrel from a G6R which went right on the gun once I used the included adapter. Consistency over the chronograph was in the plus or minus 3 fps range, which is more than acceptable for a brand new gun. On field, the XVR was tourney gun light, handled quickly and was quite accurate using the Graffiti. I did notice that it was significantly louder than a full pneumatic spool valve gun, with the valve's solenoid giving a solid 'smack' every time the gun fired. The XVR more than kept up with the Vapor, DM, and LV1 toting opposition, and I managed to take a few scalps with the XVR. During the course of the weekend, I didn't experience any barrel or breech breaks with the XVR, and efficiency was more than acceptable, getting around 7 pods and a hopper per 68/4000psi fill. The trigger pull was a massive improvement over the previous Crossover, and with the right adjustments to fit my tastes, would do just fine for regular use.
I like where Tippmann is going with the XVR. They took the time and effort to listen to players, and the improvements in the XVR reflect it. MSRP remains at $429, which is a nice bonus considering the extra time and money Tippmann put into this gun. The 2 year warranty remains as well. I'm also told that Tippmann will be producing and selling a 3 piece barrel kit with .680, .684, and .688 backs for smaller paint that ought to be available in the next month or so.
For more information on the Tippmann Crossover XVR, check out http://www.tippmann.com
Tippmann Parts.Com
A look at the Tippmann Crossover XVR. It will be available in Red, Titanium, and Olive and begin shipping from Tippmann on 10/15/2013. The Crossover XVR comes in a nice padded canvas case with zipper closure. The gun straps securely in to the case with velcro straps. A two piece, two tone barrel is included also.
Accessory kit includes a grease packet, all the tools you need for any screws in the gun, a barrel sleeve, squeegee, and a volume chamber spacer. New to the XVR is an included barrel adapter that lets you use any Autococker threaded barrel on the gun. Some new features compared to the standard Crossover would be the new venting ASA. Attach your tank by screwing it in normally. Then you can turn your tank off using the knob on the ASA. When you turn the tank off the knob will vent off the back pressure so you can easily take off your tank. The XVR also has tooless access to the spool valve. By pushing in the button at the back you can pull back the rear grip knob.
Then holding on to that knob you can unscrew the valve for complete access to the internals. The grip cover is held on by speed locks so you can quickly access the battery compartment. A new lightweight aluminum trigger is also included.
Paintball X3 Magazine
When Tippmann released the Crossover marker a while back, it was greeted with excitement that the company that traditionally catered to woodsball play would attempt to "cross over" with a paintball gun looking and shooting like something aimed more at competitive paintball, and then acceptance as players who tried the marker found it to be a solid mid-level performer.
When Tippmann released the Crossover marker a while back, it was greeted with excitement that the company that traditionally catered to woodsball play would attempt to "cross over" with a paintball gun looking and shooting like something aimed more at competitive paintball, and then acceptance as players who tried the marker found it to be a solid mid-level performer. However, the marker wasn't perfect and players began to report back to Tippmann with a list of features they wished the Crossover included. Tippmann has clearly listened to their valued customers, as they recently released an updated, upgraded version of the Crossover marker that offers electronic, tournament-style performance and increases value thanks to a handful of additional features that make the new model, the Crossover XVR, a true winner!
The electronic Tippmann Crossover marker starts life as a solid mid-level marker, featuring an open-bolt, blow-forward spool valve operating system, a Hall-effect blade double trigger that operates in either electronic or mechanical mode, nine-volt battery power, a bottom-line-mounted pressure regulator, clamping feed neck and anti-chop eyes. Constructed from aluminum and high-strength polymers, the Crossover may be a bit longer than some tournament markers but in appearance and configuration, it fits the bill of a tournament-style gun and thanks to various programmable rates and modes of fire, it offers similar performance. However, the while the standard Crossover does a lot of things pretty well, owners and those considering becoming owners saw a few areas where, in comparison with other markers, the Crossover could stand to be kicked up a notch. The bottom-line bottle adapter and regulator doesn't offer any type of on/off or purging capabilities, the stock barrel leaves a little bit to be desired, field stripping the marker for maintenance and cleaning requires tools and the vertical fore-grip is a bit long. Customers can own the Crossover in the same range of colors the Ford Model-T automobile came in- any color they might like, as long as it's black.
While many companies in paintball take customer feedback and ignore it or promise to fold it into future projects, Tippmann heard their customers and have incorporated the most-requested changes and improvements to the marker into an upgraded model available right now, the Crossover XVR. Available in olive green, red or titanium silver, the Crossover XVR offers the same spool valve, anti-chop, clamping-feed, regulated performance of the standard Crossover, but adds a venting, on/off collar to the bottom-line regulator, tool-less disassembly of the valve and bolt system for quicker, simpler maintenance, the ability to open the wrap-around grips and replace the battery without tools, an adapter allowing the use of Autococker barrels and a standard fifteen-inch, two-piece barrel with plenty of porting up front. Finally, the vertical fore-grip has been shortened. At a retail price of $429, the added expense of the XVR over the standard Crossover is truly a bargain, as we found out when we took the marker out to play at OXCC Paintball in Maryland at one of their recent scenario games.
While the Crossover XVR at two pounds, seven ounces is not the lightest paintball gun in the world, with a light motorized hopper and a 68 cubic inch, 4,500psi Ninja Compressed air bottle the marker was easy to move around with and shoulder, though for smaller or younger players it may be a bit long. Over the chronograph, our test XVR started the day with a string of 255, 259, 256. As the field limit for the day was 280, we bumped it up an notch quickly and easily via the adjusting nut at the front of the bottom-line bottle adapter/regulator and within moments my card was punched with an impressive string of 277, 275, 279. This string was even more impressive when consideration is given to the fact that this string was recorded with the two-piece Tippmann stock barrel with a bore size of .692, much larger than the Valken Redemption paint used for the day's play. This consistency lent itself perfectly to impressive accuracy both at the target range and, more importantly, out on the field where the targets were shooting back. Even when set to PSP ramp, in fully automatic mode or in semiautomatic, the marker kept both single shots, bursts and long streams on targets near and far.
Even when duking it out with opponents shooting much more expensive markers such as Ego, ETek, Geo, Bob Long, Empire and Luxe markers, the Tippmann Crossover XVR kept up both in terms of accuracy and rate of fire, never leaving me feeling outgunned or wanting something better. Throughout the entire day of play on a breezy Fall day with temperatures in the sixties and a cloudy sky, the Crossover XVR kept up with anything shooting back at it, did so at very high rates of fire and simply refused to chop a single ball. No paintballs broke in the barrel either, and that Tippmann two-piece barrel performed admirably, not only keeping paintballs on target but doing so very quietly thanks to its plethora of porting. Players will certainly enjoy the ability to switch to an Autococker threaded barrel and use whatever they'd like, however. Finally, the XVR even proved to deliver solid air efficiency, as I shot nearly a half a hopper of paintballs at the chronograph, another full hopper and five 180-round Pinokio pods on the field and walked off with plenty of air still in the 68 cubic inch bottle.
Packed with extra features that clearly increase the value and improve the performance of the Crossover, the Tippmann Crossover XVR is an outstanding paintball marker. Fast, accurate, reliable, efficient, consistent and easy to service, the XVR, in the hands of a recreational or scenario player is more than enough marker for serious woodsball play and could easily "cross over" into tournament play in the hands of experienced, serious players.
P8ntballer.com
Tippmann XVR Crossover Marker Review and comparison

So when two packages dispatched from P8ntballer.com HQ landed on my doorstep, I knew roughly what they were at least. Tippmann markers, which ones specifically however was a mystery to me. I had images in my head.
One of the biggest companies in paintball, they've been supplying markers to sites around the world for decades and their markers are hugely popular on the scenario scene too with some very military looking hardware being wielded on a weekly basis by thousands of recreational players worldwide.

Unfortunately the boxes which arrived seemed far too small to be actual markers, so I was confused until I opened them and discovered two sleek looking items in all black and black and olive colour ways.
The first one I opened by coincidence was an all-black Tippmann Crossover marker, released a couple of years back to cater to people who played both woodsball and tournament paintball. A spool valve operation with a slight twist in that it could be operated as an electronic marker with all the standard firing modes or at the flick of a mode selector switch a completely mechanically operated item with not a single coloured light to be seen.
I thought about this while I was waiting for the weekend to arrive and I could get them out to the site for a quick and cheeky shoot and while at first it seemed strange, it became more of an appealing idea the more I thought about it. I've been that guy on the field when the battery died in my marker, all of a sudden it became an expensive paperweight accompanied by that sinking feeling in the pit of my stomach.
If only I could have shot on in mechanical mode, I would still be outgunned but at least in with a slim chance. Or perhaps you're going out for a long big game, you're going to be a long walk from paint supplies and you don't want to run out too quickly, switch to manual mode for a reduced rate of fire, conserving paint supplies while still being reasonably effective.
Good idea if you ask me.

The second package was the NEW Crossover XVR marker, the evolution of the previous marker in a fetching black and olive finish. It was accompanied by a receipt stating that this marker was a demonstrator so did not come in the retail packaging yet there were some immediately noticeable differences. Tool less bolt out back design for one, purging proprietary on/off ASA for another, tool less battery access, longer 2 piece barrel and a cocker thread adaptor pretty much rounded off the external improvements. While the olive is nice, I have a thing for black and silver, mercifully it's also available in this and a fetching solid red and black finish too. Both markers came with the requisite hex keys and a few spare o-rings and screws.
Both markers are macro less offerings with a smattering of composite parts on the feedneck and front grip.

While this offers more grip, it doesn't feel like a cheap plastic, it's a well finished marker all over. Lever locking feednecks which have now thankfully become the standard on most new markers have plenty of adjustment and held a solid grip on my Dye Rotor for the time I was using the markers, no sign of slipping or rotating on either marker and yes, I made a point of trying! Practicing a tournament breakout and whipping the marker around from a makeshift start point did nothing to dislodge the position of the loader neither did normal play on site when I took the opportunity to do a little light hearted punter hunting.

Chrono and Shooting
Fitting the battery showed another clever little touch, tool less access to the battery compartment which will actually only allow a battery to be fitted correctly, you can't physically fit it the wrong way round without taking a hammer and battering it in. Simple touch, but welcome nonetheless. Obviously I'm a man, so I opted to ignore the instructions and go straight to flashy light mode by switching the lever all the way across to the many bullets picture on the selector switch. Break out the chrono, simple adjustment brought it from 240 to 285 +/- 5fps and off we go. What mode was I in? Who cares, it's shooting and shooting lots. Turned out to be full auto, which we like more than a little bit.
"Feel" So how does it shoot? Here's a vid.

Just a few balls to get an idea, paint being the main determining factor in accuracy as we all know, I was using field grade stuff and it still shot fairly straight with only a few stray balls through the day. It was cool outside but not freezing, wind was at a minimum so none of those elements came into play really. Interesting to note, I shot around 1500 balls all day without a break in either mechanical or electro mode on the Crossover XVR however there was a slight issue with the original Crossover in that it blew off an eye cover early in the day which wasn't noticed until after the game and so I played one more in mechanical mode with no issue or balls broken due to a lack of an eye sensor , proving the worth of its design.
After that I packed it away planning to phone Tippmann UK on Monday morning to get a replacement.

On the subject of actually shooting and how the marker "feels" I was expecting it to be fairly crude, I don't know why however I'm pleased to report it wasn't. It was smooth, very smooth with little to no kick even at high rates of full auto fire, no drop off in shots either and ridiculously quiet compared to the markers firing around me. "Butter" as the cool kids say and that sums it up nicely as much as I hate to admit it.
Comparable feel to a Proto or early Geo (because I haven't shot the latest Geo models I can't say), overall I have to say I was very impressed with the XVR and to be clear, I'm not a fan of spoolies. Weight wise, though I didn't use scales it feels no heavier in the hand than any other tournament marker, nicely balanced too. I didn't experience any kind of fatigue through the day from carrying it around fitted with a Rotor and a 68/45 Evil Fibre wrap bottle.

Switching from electro to mechanical mode the only difference I could feel in the marker operation was the length of the trigger pull, honestly the trigger is THAT light in mechanical mode. I didn't adjust the trigger at all, even for mechanical mode as it was simple to reach and maintain a reasonable rate of fire.

For the tinkerers amongst you there are plenty of adjustment points. After a game or two and the inevitable hits I took, wiping down the clean lines was a simple matter, no nasty nooks or crannies for paint to get properly stuck into and at the end of the day whipping out the bolt for a quick lube before storage took all of 60 seconds to remove and replace. It seems an easy marker to live with, I had no leaks but after seeing the bolt replacing o-rings looks a simple enough job.In either mode the marker simply felt like the bolt was kissing the ball and it was leaving the barrel at pace.

In the hand and taking aim the XVR was fairly easy to get on target with the first ball, where I looked and pointed the barrel instinctively the ball tended go rarely requiring me to make adjustments which often happens with unfamiliar kit. Switching hands was a simple and comfortable manoeuvre even though the marker was longer than I am used to the extra length did provide a wide grip and in turn a stable platform for running and shooting.

After firing the two markers back to back the XVR is a definite progression from the original Crossover, better in almost every way with little to fault it. Not that there was anything glaringly wrong with the Crossover, the XVR simply feels more refined and given the RRP of £365 you could do an awful lot worse for the money.




Plus you've got Tippmann backup, a 2 year warranty and a world of experts on this very forum who will be willing to help at all hours of the day or night. Niggles... Before I set out to make any criticisms I want it to be perfectly clear they're all completely personal things. First thing would be the new On/Off ASA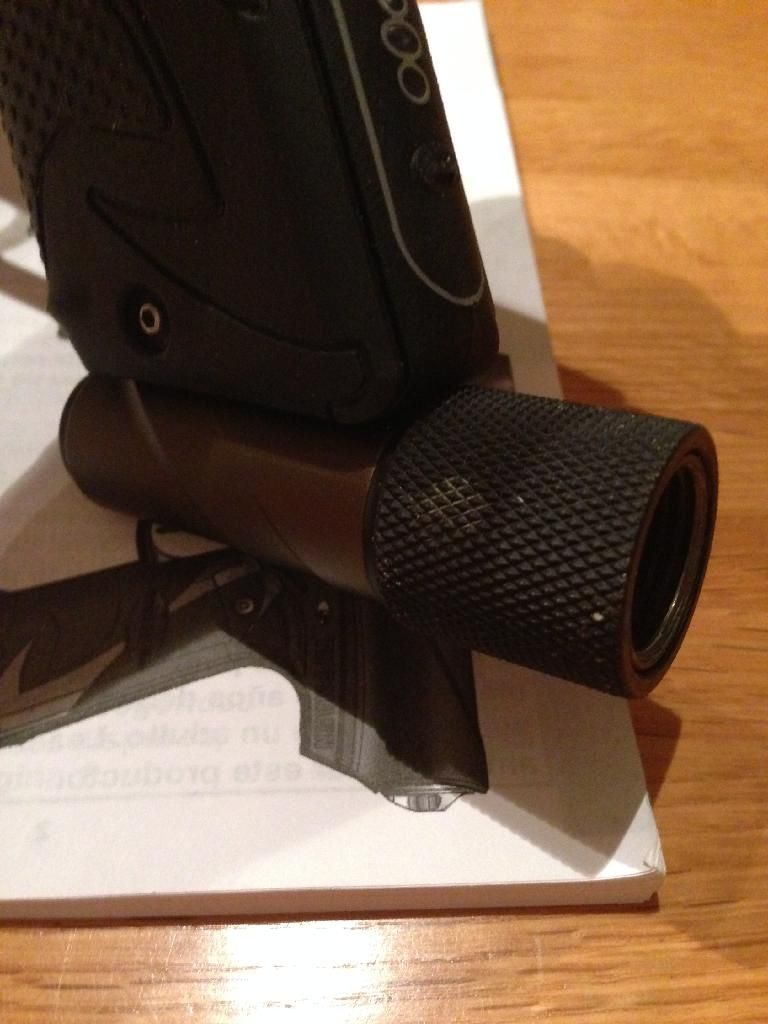 It's a proprietary item and I'd say it wouldn't be the easiest thing in the world to replace with a more conventional one, it also adds a little length to the marker which already feels fairly long. I'm not a short guy, five feet eleven and a very important half inches high, and with a 68/45 fibre bottle on there I was at my comfort limit. Any longer and I would have had to switch to a smaller bottle which I don't like to do where possible but I do like a reasonably short setup, your opinion may vary depending on your own personal preferences.

The barrel included I have to say was excellent, I felt no need whatsoever to replace it for the sake of accuracy but it was 15" long, I'm used to a 14 incher (oo –er Ma'am!!) and this added to the overall length of the marker. It's only an inch extra but when you add the extra inch provided courtesy of the ASA it's more noticeable though to be fair that's from a predominantly tournament playing point of view, I'm sure for the scenario guys the extra length in the barrel would be welcomed for poking out of bushes and stuff while they're all wearing their ghillie suits pretending to be trees or shrubs or whatever it is they do. It's a fairly moot point, there's a cocker threaded adaptor included in the box so all those shiny barrels you have accumulated at home in all bore sizes will most certainly not go to waste.
Did I mention the price? Yes I did, and it's worth mentioning again. £365 for the XVR. £3-6-5, for the price of any high end tourney marker you could have one of these markers and a year's supply of paintballs. It comes with a soft case too! Its predecessor, the original Crossover is selling for £299.95 but to be honest for the sake of an extra £65 you'd be mad not to buy the XVR.
Aesthetically I quite like its design, it's not necessarily as pretty as some of the offerings from other companies but it's certainly not offensive to the eye. Again, beauty is in the eye of the beholder, your mileage may vary, IMHO and all those other forum phrases.

In Conclusion.
I was pleasantly surprised mainly by how the marker fired and felt, Tippmann make good quality stuff, there was never any doubt of how the build quality would be no matter what marker it was. For a marker built simply to perform it does its job and does it well. Would I recommend it? Absolutely. It will never convert the diehard fans of the high end markers like DM13/14 and Ego/Geo, but as an alternative to the mid-range markers like the Axe, Etek, Etha and suchlike there's not a shred of doubt that this thing will more than happily compete and in a more than a few cases beat off the competition especially at that price.
If you're at a big game and you see the Tippmann guys, go say hello and ask questions but make sure you've got your wallet handy…………..

Available from all good retailers, look across the top of this page to see the best ones.

www.p8ntballer.com
www.tippmann.com
Order yours now!